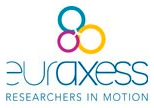 EURAXESS – Researchers in Motion is a one-stop shop for researchers seeking to advance their careers and personal development by moving to other countries.
Dutch One-Stop-Shop
EURAXESS The Netherlands provides a One-Stop-Shop for foreign researchers coming to and living in the Netherlands.
EURAXESS The Netherlands provides information for researchers on:
Dutch research vacancies
Dutch research grants and fellowships
Information on living and working in the Netherlands, including information on administrative procedures
Contact Euraxess Centers for personalized assistance
HR Rights
A special section to the website is targetted at the employer. Here detailed information is provided on administrative procedures concerning employing/attracting foreign researchers to their organisations.