Scientists of the Radboudumc play a leading role in personalized healthcare research, which we have subdivided into 18 themes. More information about our themes is available on our website.
Donders Center Medical Neuroscience (DCMN)
Donders Center for Medical Neuroscience is part of the Donders Institute for brain, cognition and behaviour: a cross-faculty institute that is home to a large number of dedicated researchers, all of whom share the common goal of contributing to the advancement of brain, cognitive and behavioural sciences through investigator-driven research, and of improving health, education and technology by applying advances in this field.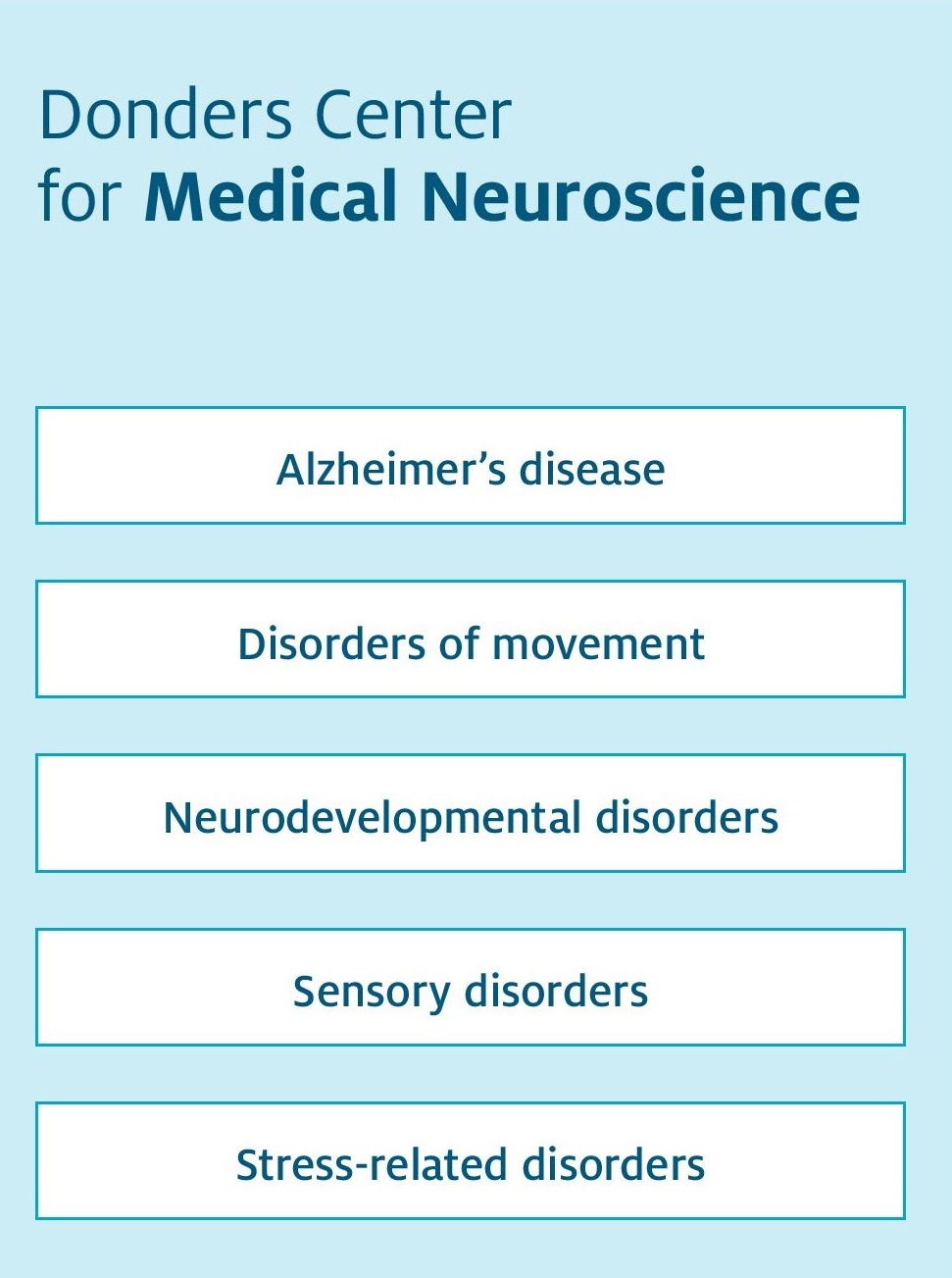 Radboud Institute for Molecular Life Sciences (RIMLS)
The Radboud Institute for Molecular Life Sciences (RIMLS) main aim is to achieve a greater understanding of the molecular mechanisms of disease. By integrating fundamental and clinical research, we obtain multifaceted knowledge of (patho)physiological processes. We aim to improve clinical practice and public health by:
Generating basic knowledge in the molecular medical science
Translating our gained knowledge into clinical applications, and into diagnostic, therapeutic and personalized treatment strategies
Training and exposing researchers of all levels to societal-relevant multidisciplinary research questions along the theme of understanding the molecular basis of disease.

Radboud Institute for Health Sciences
The Radboud Institute for Health Sciences (RIHS) aims to improve clinical practice and public health by:
Providing evidence about the efficacy and efficiency of existing and new tests, treatments and policies as well as innovative modes of health care delivery
Training young researchers in the methodology to obtain such evidence
Developing new methodologies for improving research programs in this field
Where the RIMLS typically uses objects such as cells or mice for its research, the probabilistic research at the RIHS typically deals with groups of people, both real people as well as simulated people in model situations. The groups of people are patients (in clinical situations) or part of the general population. Through these groups of people, evidence is obtained about the relation between a determinant and an outcome.