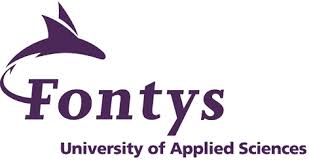 Fontys is the largest exclusive university of applied sciences in the south of the Netherlands. Our mission: to provide inspiring, challenging and outstanding higher vocational education and to conduct practical research that is truly meaningful to society.
Our education, and the research we carry out, is directly in line with current and future demands and needs of our students, the professional arena and (regional) society. Together with our partners, we want to formulate the questions of the future, put them on the agenda, pursue them and where possible, provide a solution.
Research is high on the agenda at Fontys. Applied innovative and practical research that we carry out in close cooperation with, and for, the professional arena. We try to match the innovation needs of companies and institutions as much as possible across five important and topical fields of expertise. Our research themes are aimed at developing Fontys into a knowledge-intensive network organisation linked to societal and corporate issues.
Our five research themes:
- Creative Economy
- Health
- High Tech Systems & Materials
- Learning Society
- Smart Society