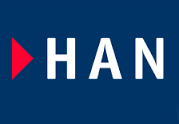 HAN University of Applied Sciences offers higher education of an outstanding quality in an inspiring, innovative and international environment.
We strive to prepare our students to meet today's challenges of globalisation by combining unrivalled quality practical education with carefully specialised coaching delivered by skilled professionals.
Practice-based research at HAN University of Applied Sciences is multidisciplinary and relates to themes from the professional world. We share and develop knowledge in the professional field as well as extract knowledge from the professional field. This exchange acts as a catalyst for the development of our education.