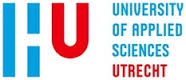 HU University of Applied Sciences Utrecht is an inspiring place where exceptional things happen. We are centrally located in the Netherlands, within the vibrant Utrecht Science Park and in the heart of society.
We look outward as well as forward. We believe in cooperation as well as individual growth. At HU, education, research and the corporate world come together to impact the future, your future. We look at issues from multiple angles to find innovative solutions for the city of tomorrow.
HU University of Applied Sciences Utrecht provides education for students and professionals aged 17-67. Currently, around 35,000 students, spread over 22 locations in Utrecht en Amersfoort, attend our programmes and courses.
We have over 50 lectors who conduct research into issues arising in everyday life, ensuring constant revision and improvement of our education programmes and a valuable contribution to innovation in professional practice in the Netherlands and beyond.