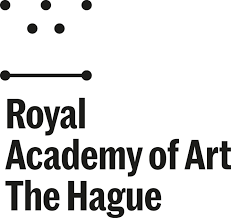 The Royal Academy of Art, The Hague (KABK) has been a leader in educating artists and designers since 1682. Highly skilled professional staff with international professional practices, guide and accompany students through their studies.
We believe in lifelong learning and offer a School for Young Talent, preparatory courses, bachelor's and master's degree programmes, and a PhD programme in collaboration with Leiden University. Together with the Royal Conservatoire we form the University of the Arts The Hague.
There is a strong focus on research within the study programmes at the KABK. Research is also conducted by tutors at the KABK. The lectorates play an important role in nurturing and coordinating research by tutors and in developing the research aspect in the curricula.
The particular complexion of research at the KABK is characterised by its intensive collaboration with Leiden University. Through these activities the KABK hopes to contribute to the discourse and practice of research-driven art and design. The outcomes of research by students and staff are shared through multiple channels including exhibitions, performances, publications, and symposia.
PhDArts, international doctorate programme
PhDArts, a collaboration between Leiden University Academy of Creative and Performing Arts (ACPA) and the Royal Academy of Art, The Hague (KABK), is a high-level international doctorate programme in visual art and design. PhDArts functions as a platform for artists who regard theoretical reflection and artistic practice as intrinsically related and complementary.